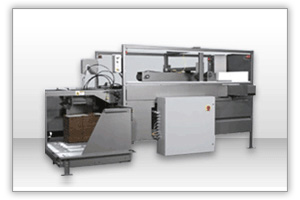 >
PROCESS
:
Corrugated shipper carton loaded in Lay flat condition in the Machine's magazine. Each case is picked by vacuum cups ,opened and squared. All the bottom flaps are folded pneumatically, result is perfectly formed empty cartons and ready to be filled, delivered to the next work station i.e. carton filler on an On-Demand Basis. Bottom sealing is an option available for sealing using BOPP tape or using Hot-melt Glue Adhesives.
The EC 801 N Case Erector is an easy-to-use, highly-reliable and ergonomically-friendly case erector that is capable of erecting and sealing cases with pressure-sensitive tape or hot-melt glue at speeds up to 15 cases per minute.*


DESIGNED
TO
PERFORM
:
The EC 801 N our response to the need for a robust, compact and ergonomically-superior case erecting machine. The quick-adjust case magazine is wide and close to the floor, so lifting and bending motions are reduced during case loading. Cartons are placed in an upright position horizontal magazine. The output of the machine is upto 12 -15 cartons per minute.
EC 803 NF ideal for tight production areas, ergonomically-friendly vertical magazine enables easy loading of case blanks. A stack lift that elevates as blanks are pulled and placed into the feed assembly. A reserve bundle allows blanks to continue to feed while new stacks advance into position. The innovative design of the EC 803 NF ensures reliability and continuous production. An optional horizontal magazine is also available. If you choose an EC 803 NF - Vertical Model Case Erector, you will experience better production and less downtime due to misfeeds or jams. The output of the machine is upto 25 cartons per minute


FAST
CHANGE
OVER
&
CAPABILITY
:
Corrugated shipper carton filled with products enters the sealing machine, the machine has the option of closing the four top flaps and subsequently BOPP tape is applied on the top and bottom of the shipper carton. By utilizing continuous motion of synchronous roller & motor drive the system can seal cartons upto 80 kg at a speed of 20 cartons per minute. Our carton sealers provide consistent reliable seals on your carton every single time.
Our care Erector is engineered and manufactured for continuous, reliable performance. You can be rest assured that machines will meet your need for many years to come. plus, Our every system is supported by our team of service an technical support professionals who are available, 7-days a week, 365 days a year.
Optional
Accessories
:
♦ In feed & outfeed Roller conveyors Online batch coder Auto coder, Inkjet machine.
Power
Saver
:
♦ Auto-stop On/Off mechanism.
Bottom
Sealer
:
♦ BOPP Tape Sealer/ Hot Melt Glue Applicator.
Tape
Sizes
:
♦ 48mm, 60mm, 72mm. or Customized as per your requirment.